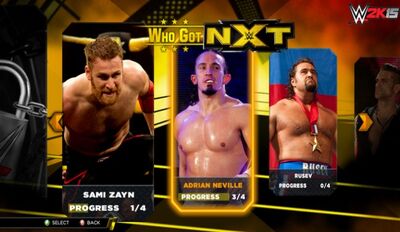 "Who Got NXT" Replacing MyCareer on PlayStation 3 and Xbox 360 is a mode called Who Got NXT which is a story mode focusing on up-and-comers from NXT: Adrian Neville, Bo Dallas, Corey Graves, Rusev and Sami Zayn, the 5 playable NXT Superstars in the game.
Proving Ground
Edit
Designed to be the spiritual successor to Defeat The Streak on WWE 2K14, Proving Ground pits players against an overpowered John Cena, who has been described to be the top guy in WWE. This mode is only unlockable after completing the Who Got NXT mode. The player will choose one of the 5 playable NXT Superstars to face Cena in a one-on-one match with a 30-minute time limit. Defeating Cena with all 5 NXT stars will unlock the entire roster (including created Superstars) to play the mode with. This mode is also exclusive to last-gen consoles.
Who Got NXT Walkthrough
Edit
Adrian Neville Walkthrough
Bo Dallas Walkthrough
Corey Graves Walkthrough
Rusev Walkthrough
Sami Zayn Walkthrough
Ad blocker interference detected!
Wikia is a free-to-use site that makes money from advertising. We have a modified experience for viewers using ad blockers

Wikia is not accessible if you've made further modifications. Remove the custom ad blocker rule(s) and the page will load as expected.