United States Championships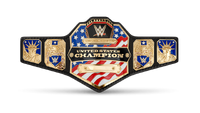 United States Championships Unlike most other championships currently defended on Raw and SmackDown, the United States Championship did not start out as a recognized WWE Championship. Rather, the title first emerged in WCW.
Many of the ring's greatest names have staked claim to the U.S. Title during the title's early years, including WWE Hall of Famers Sgt. Slaughter and Greg Valentine. Years later, the U.S. Championship regained the glory it held in years past when competitors like Eddie Guerrero, Booker T and John Cena fought over it in many memorable battles.
Ad blocker interference detected!
Wikia is a free-to-use site that makes money from advertising. We have a modified experience for viewers using ad blockers

Wikia is not accessible if you've made further modifications. Remove the custom ad blocker rule(s) and the page will load as expected.