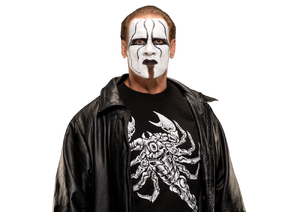 Sting
Statistics
In WWE Games
Sting Bio
Edit
Often dubbed "The Franchise of WCW," the man called Sting is one of the most recognizable and unique faces in sports-entertainment history. It was that distinction that made him the backbone of the Atlanta-based organization throughout the late 1980s until the end of WCW in 2001.
Beginning with his NWA debut in 1987, Sting brought an enormous amount of charisma to the ring with his bleach-blond hair, colorful face paint and neon ring gear. However, at the inaugural Clash of the Champions, a 45-minute time limit draw against NWA World Champion Ric Flair proved The Stinger was on his way to becoming one of sports-entertainment's elite. Eventually, Sting defeated Flair for the NWA Title, and would later add six WCW World Titles, three WCW Tag Team Championships, two WCW International World Titles and two United States Championships to his resume throughout his career.
While the charismatic competitor was wildly popular with WCW fans, it was a shocking transformation in 1996 that made Sting even more memorable. With The New World Order imposing their will over WCW, The Stinger adopted a darker personality with white and black face paint and attire. He became a silent warrior who lurked in the rafters of arenas all over the country, ready to strike The nWo at a moment's notice. For more than a year, Sting never spoke or competed in the ring, captivating audiences until finally he squared off and defeated WCW Champion and nWo leader, "Hollywood" Hulk Hogan.
Ad blocker interference detected!
Wikia is a free-to-use site that makes money from advertising. We have a modified experience for viewers using ad blockers

Wikia is not accessible if you've made further modifications. Remove the custom ad blocker rule(s) and the page will load as expected.