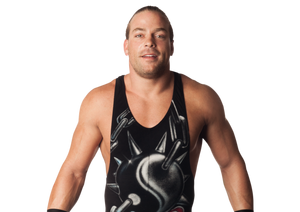 Rob Van Dam
Statistics
In WWE Games
Rob Van Dam Bio
Edit
Who has two thumbs, scored a historic WWE Championship win in New York City and is perhaps the most popular ECW icon of all time? Say it with him now: "Rob! Van! Dam!"
When the chilled out martial artist from Battle Creek, Mich., broke into ECW in 1996, he made an impact like few grapplers ever have. Trained alongside future partner and rival Sabu by Sabu's uncle, The Original Sheik, RVD had the sound fundamentals needed to thrive in the Land of Extreme. Van Dam's laidback demeanor directly contradicted his agility in the squared circle, which made him an instant favorite among the Philadelphia faithful. He quickly scored victories over Axl Rotten, Mikey Whipwreck and Sabu, but it was his partnership with the latter that launched The Whole Dam Show to a new level.
Ad blocker interference detected!
Wikia is a free-to-use site that makes money from advertising. We have a modified experience for viewers using ad blockers

Wikia is not accessible if you've made further modifications. Remove the custom ad blocker rule(s) and the page will load as expected.