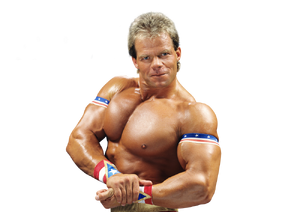 Lex Luger
Statistics
In WWE Games
Lex Luger Bio
Edit
Possessing one of the most impressive physiques in the history of sports-entertainment and a repertoire of powerful maneuvers, Lex Luger deserved to be called "The Total Package."
Making his NWA/WCW debut in January 1987, Luger began his career as an associate of the legendary Four Horsemen. With the dangerous faction in his corner, The Total Package defeated Nikita Koloff to win his first United States Championship in July of 1987. Eventually, Luger left The Four Horsemen to build on his own legacy, challenging his former leader, Ric Flair, for the NWA Heavyweight Championship throughout 1988.
Winning the United States Championship two more times in 1989, Luger's third reign as champion cemented his name in the history books as he held the U.S. Title for a record setting 523 days. Though he lost the title in 1990, he reclaimed it less than two months later and defended it for an additional 210 days before vacating it when he won the WCW World Championship.
Ad blocker interference detected!
Wikia is a free-to-use site that makes money from advertising. We have a modified experience for viewers using ad blockers

Wikia is not accessible if you've made further modifications. Remove the custom ad blocker rule(s) and the page will load as expected.