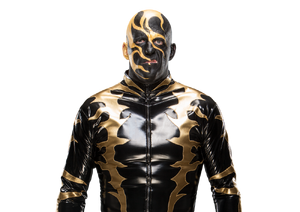 Goldust
Statistics
In WWE Games
Overall Rating: 82
Goldust Bio
Edit
The son of WWE Legend and Hall of Famer Dusty Rhodes, Goldust is often known as Dustin Rhodes. This unique superstar has won both the Intercontinental Championship and the World Tag Team Championship in WWE. He's also the older brother of Cody Rhodes. Will Goldust have the success his father had in your WWE Universe?
Beneath the platinum blond wig, sleek latex and gobs of gold face paint is the son of WWE Hall of Famer Dusty Rhodes. Good luck trying to understand him, though. Goldust is a twisted enigma wrapped in a package of many surprises. Or, as some of his past rivals probably would describe him, "a sick freak."
Ad blocker interference detected!
Wikia is a free-to-use site that makes money from advertising. We have a modified experience for viewers using ad blockers

Wikia is not accessible if you've made further modifications. Remove the custom ad blocker rule(s) and the page will load as expected.